Connect with other Quakers: Quake Live on IRC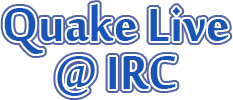 We at Holysh1t.net recently added the new Quake Live on IRC section to the website. On this page we plan to list several IRC channels relevant to the game, mainly focusing on nation communities and clan channels. We managed to gather quite a bunch already, yet feel free to submit more!
The idea of this "Quake Live on IRC" page is that it should allow the community to more easily find teams to organize cup or league matches. You could just browse the list to discover new channels as well though.
Link to the Quake Live on IRC list as much as you like. We hope it will become a much used and reliable reference for all of the people in the community, so Quake Live can only keep on growing bigger and bigger.
Concerning the QL IRC channels in the US, we would definitely want to add these as well, though we have little knowledge of the existing clans and other relevant community channels.
As many of you already know, you can always find us at #qlpickup.eu which is currently the biggest public Quake Live community on IRC!
Bonanza! :]
1 comment

Loading ...